Hanuman is worshipped in several forms such as Veera Hanuman, Panchamukhi Hanuman, Shanti Hanuman, Prasanna Anjaneya and KARYA SIDDHI HANUMAN
Karya Siddhi Hanuman has been consecrated at many places throughout the world for the benefit of mankind by Dr. Sri Ganapathy Sachchidananda Swamiji, the spiritual head of Avadhoota Datta Peetham in Mysore.

Significance of Karya Siddhi Hanuman
As the name itself says Karya Siddhi Hanuman is considered to be fulfilling wishes of his devotees (Karya – means any wish; Siddhi – fulfillment, realization.
KaryaSiddhi ~ one who brings your wishes to full realization).
Poorna Phala Samarpanam / Vratam / Deeksha
Devotees can offer poorna phala (coconut) to Lord Anjaneya for the fulfillment of their wishes. The process of following this "Poornaphala Deeksha" is as follows:
Primarily the devotees are requested to chant an elaborate KaryaSiddhi Hanuman PurnaPhala sacred utterance /syllable (mantra) led by the priest.
Then Devotee has to make a Sankalpam (make a wish in front of the god) and tie the coconut with its outer shell (PurnaPhala) at the temple.
Devotee has to chant Karyasiddhi Anjaneya mantra everyday 108 times. The KaryaSiddhi Mantra is as follows-


"Tvamasmin Kaarya Niryoge Pramaanam Hari Sattama Hanuman Yatna Maasthaaya Dukha Kshaya Karo Bhava"





Meaning

"O Lord Hanuman, Kapeeshwara - Lord of Courage. Please fulfil my task/work, put your efforts and help me overcome my obstacles/sorrows"



A devotee has to perform 41 Parikramas / Pradakshinas (circumambulation) twice a week at this temple during this course of 16 days.
Alcoholic drinks and non-vegetarian food has to be stopped during this period.
On 16th day, this coconut which was tied has to be removed and offered to lord and it should be utilized to prepare some sweets and should be distributed among family, friends, and relatives.
Significance of Marakata Stone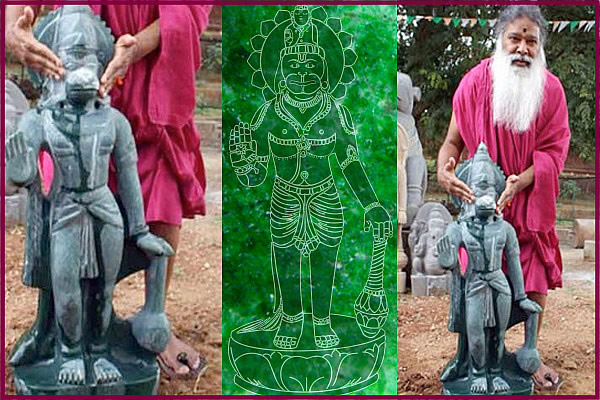 Marakata or Emerald is known by their distinctive green color and can vary from light to dark green.
According to Indian mythology, the name emerald was first translated from Sanskrit as "Marakata," which means "The green of growing things." The name we know is believed to have come from an ancient Persian word, translated into Latin as "Smaragdus", and eventually over time, corrupted to "Emerald".
All emeralds contain inclusions formed during their growth. Inclusions indicate the stone is natural.

Marakata or emerald harmonizes and strengthens the positive influences of Budha or Mercury. These influences include intelligence, education, speech, teaching, learning, communication, confidence, writing, drawing, trade, humor, wit, discrimination, diplomacy, intellect and commerce.
Budha or Mercury is the prince in Astrology and is influenced by Sun and Moon.

The Marakata Hanuman idol which was consecrated in Hyderabad and Dallas is very Unique. It took three years for the sculptors to prepare the idol. Marakata is a very difficult stone to carve. When the idol is under the light when abhisheka is performed with milk, Hanuman will look glorious and divine.
Sri Swamiji has consecrated many Karya Siddhi Hanuman temples for the benefit of mankind throughout the world at the below locations -
The 1st Karya Siddhi Hanuman Temple was consecrated at Chennai(Tamil Nadu, India) on 24 March 1997
Cochin(Kerala, India) - 13 December 1999
Eluru(Andra Pradesh, India) - 31 January 2001
Nellore(Andra Pradesh, India) – 4 February 2001
Bangalore(Karnataka, India) – 28 March 2002
Kadapa(Andra Pradesh, India) – 26 December 2002
Trinidad, West Indies - 9 June 2003
Surat(Gujarat, India) – 26 November 2004
Machilipatnam(Andra Pradesh, India) - 22 January 2005
Warangal(Andra Pradesh, India) - 11 May 2005
Makedatu(Karnataka, India) – 18 December 2005
Srikakulam(Andra Pradesh, India) – 22 January 2006
Hyderabad(Telangana, India) – 4 April 2006
Malaysia – 9 April 2006
Ananthapur(Andra Pradesh, India) – 30 April 2009
Akivedu(Andra Pradesh, India) – 29 January 2012
Guntur(Andra Pradesh, India) – 6 February 2012
Mysore(Karnataka, India) – 26 December 2012
Jayalakshmi Puram(Ananthapur, Andra Pradesh, India) – 15 May 2013
Vijayawada(Andra Pradesh, India) – 12 February 2014
Dallas, USA – 23 July 2015
London, 12th September 2016